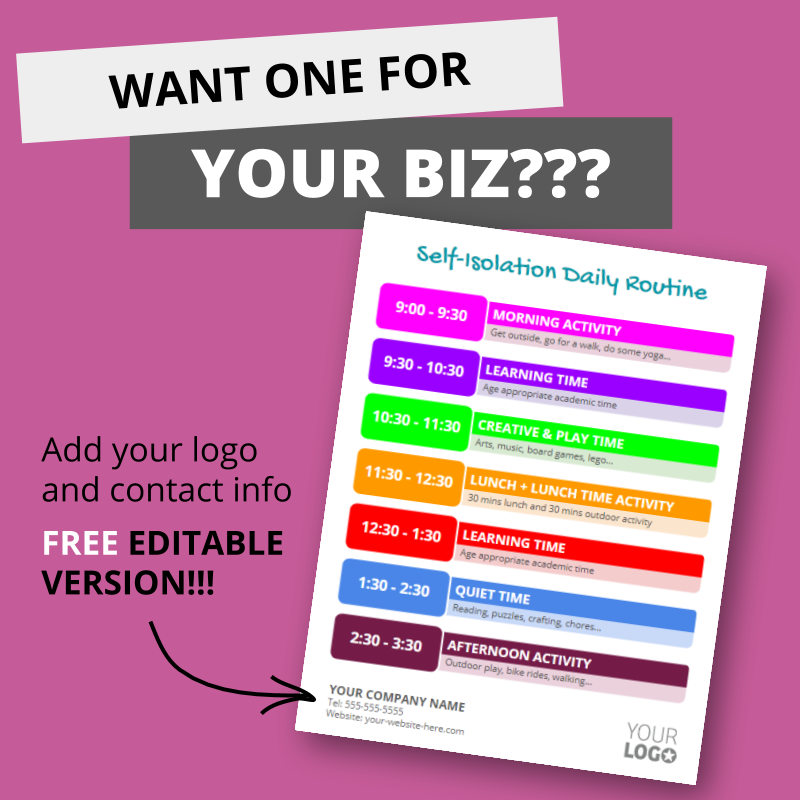 COVID-19 Self-Isolation Daily Routine
Want to help your local kids and parents? Here's a super easy way you can!!! Read on 👇👇👇
Things are moving quickly.
More and more regions are closing schools down completely.
Some are doing partial business shutdowns.
Several are trending toward even more aggressive measures to try and slow things down.
All of this means that there will be A LOT of kids whose lives and routines will be turned completely upside down.
As you know, a child's brain craves both novelty AND predictability. Having no predictable routine can often lead to less desirable behaviour and choices from our little ones and can quickly make a difficult time even more challenging for parents.
I was thinking we could help these parents (and kids) out!
A simple daily routine can go a long way.
And, if we are going to help them out… why not throw our logos and contact info on there too 😉
I've put together a sample "Daily Routine" and am happy to share you.
It's FREE. And, It's editable, so you can easily throw your logo and contact info on there (or make any other changes you see fit). You don't even need to sign up to grab a copy, just click the button below 👍
https://mitchzeltzer.com/wp-content/uploads/2020/03/Daily-Routine-promo.png
800
800
Mitch
http://mitchzeltzer.com/wp-content/uploads/2019/03/MZ-Logo-on-light-v1-300x133.png
Mitch
2020-03-15 23:52:06
2020-03-15 23:57:28
COVID-19 Self-Isolation Daily Routine