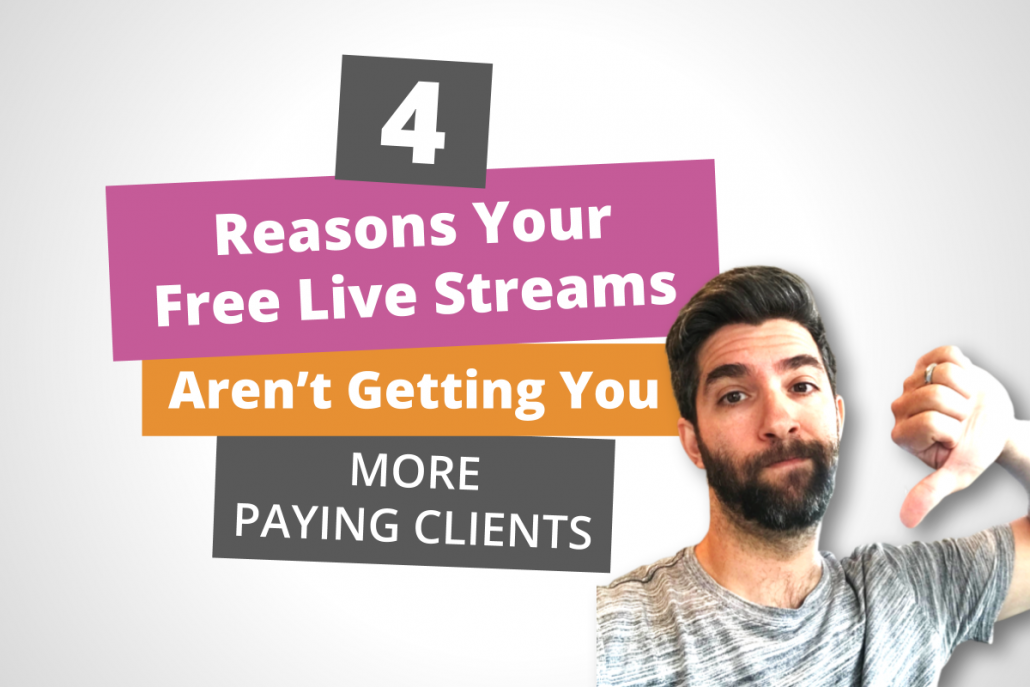 4 reasons your free live stream shows aren't getting you more paying clients
Lately I've heard a lot of this…
"I tried live streaming and it's just isn't generating enough sales to be worth the effort?"
Or this…
"I went live but it doesn't work for me/my business."
Or even this one… usually with conviction!
"Free live streams cheapen my brand and make it harder to sell virtual services."
Free Live Streams work.
☝ I'm very confident and comfortable making the statement above ☝
But, they don't work if you don't do them the right way.
From what I've seen, there are 4 main reasons why your free live streams aren't successfully converting into paying clients.
Mistake #1. Operating without a strategic plan
No clear business goal.

Are you doing this for awareness?
More social media followers?
Building your email list?
Sign-ups for a specific paid event?
→ PICK ONE GOAL!

Not seeing this as one piece of a much bigger marketing puzzle. Your live stream should be a part of a bigger plan and simply help move your leads along closer to a buying decision with you.
Mistake #2. Low attendance
Marketing your event

Consider your event title
Carefully choose the date/time
Promote your event everywhere and often

Pre-event reminders

People are busy, especially parents with young children, give them reminders of the upcoming event
Don't just remind them about the when/where of your event, also give them reminders about WHY they should join and the value THEY will get from it.

Give people a reason to join you LIVE

For example, you can offer free gifts or "door prizes" for attending live
Mistake #3. Your live event misses the mark
Not engaging / interactive enough
Doesn't actually give enough value
No clear 'beginning > middle > end' to the experience/show
Doing too much or too little! This should be an exciting 'try before you buy' experience. It's a sampling. You don't need to give it all away, but you also can't do too little. You want to do just the right amount that wows and leaves people wanting MORE!
No exciting call-to-action to move to the next step in your sales funnel (i.e. give your viewers a reason to move closer to a buying decision and make it super easy and clear to them what action you want them to take next… this action will vary based on the goal you have for this event)
Mistake #4. Lack of post-event follow up and strategy
Don't "Live Stream and Run"… The follow-up is where the money and profits are.
This is where the buying decisions happen.
Have a plan to strategically stay in touch with your Live Stream audience and drive that goal you established at the top forward!
Then, add these contacts to your long-term email nurturing list and stay in touch with them with TONS OF VALUE!
Do this right and who do you think will be top of mind for them when they are ready to book an event????
---
I know, I know… there's a lot to consider here. I get it, but since we started building a platform that makes it easy to run your free live streams the right way (and avoid these four mistakes!), we've seen first hand the difference doing it right vs wrong can make. And, it's a huge difference!
Too often people are so focused on the event, they're actually missing the entire point of doing the free live stream event in the first place. And that is to use it as a marketing tactic that drives GROWTH for their business.
Party on!!
https://mitchzeltzer.com/wp-content/uploads/2020/07/4-Reasons-Live-Streams-Not-More-Clients.png
800
1200
Mitch
http://mitchzeltzer.com/wp-content/uploads/2019/03/MZ-Logo-on-light-v1-300x133.png
Mitch
2020-07-03 10:36:47
2020-07-03 11:16:19
4 reasons your free live stream shows aren't getting you more paying clients